The Telecoms Industry is currently experiencing
The Telecoms Industry is currently experiencing a time of drastic change, as traditional communications solutions decrease and data revenues grow. As a consequence, many companies within the industry are witnessing a decline in Average Revenue Per User (ARPU) – usually an accurate indicator of business growth and profits. To reverse this, telcos and other companies in the industry must begin to monitor customer spending, and consider altering their services to cater to the changes.
It is commonly stated that 90% of start-up businesses fail within the first 10 years – although Software as a Service (SaaS) business models are generally more likely to succeed. SaaS models offer subscription plans that are often more appealing to customers because they are more affordable, and so are also more available to users with smaller budgets. Other business models often have large upfront costs and struggle to offer the latest updates to customers because upgrading is more time consuming, expensive and difficult. Ultimately, the ability to offer the newest solutions at more affordable prices will attract more customers and give a head start on revenue for SaaS businesses.
Yet, the 90% failure rate does still apply to many SaaS businesses, and taking steps to protect the longevity of your business is therefore vital. Perhaps the most important step for businesses providing a service, is improving customer satisfaction. The importance of customer service is clear, and is something we have discussed at length in other blog posts. The ability to satisfy customers is a true business advantage, often separating the winners from the losers, and the first step to satisfied customers is getting to know their needs. There are many ways to go about this, but paying attention to your ARPU is perhaps the most important.
Some call ARPU a "vanity metric", and whilst it is true that it is far from the be all and end all for businesses, it can indeed provide significant insight that helps to identify customer trends – if correctly managed and analysed. Vitally, this insight can then be used to design smart business solutions. The business advantages of tracking your ARPU include:
Deducing the financial health of your business
Validating any investment in products
Validating any investment in marketing
The most important benefit is the insight it can provide into both the short-term and long-term projected health of a business. ARPU insights can be used to generate business solutions that accelerate Monthly Recurring Revenue (MRR) growth, but can also generate smart solutions to maximise business success in the long term.
The telecom industry is experiencing a period of drastic change, as technology advances and communications move away from traditional solutions. The challenge to the industry is causing a decline in ARPU for many telcos, meaning that it is more important than ever for telcos to find additional revenue sources. Building strong customer relationships is vital, but so is becoming more flexible and adapting to the advances in communications technology. Deploying innovative new services as add-on solutions, either for contracts or as part of a bundled price, is the best way to survive the changing industry.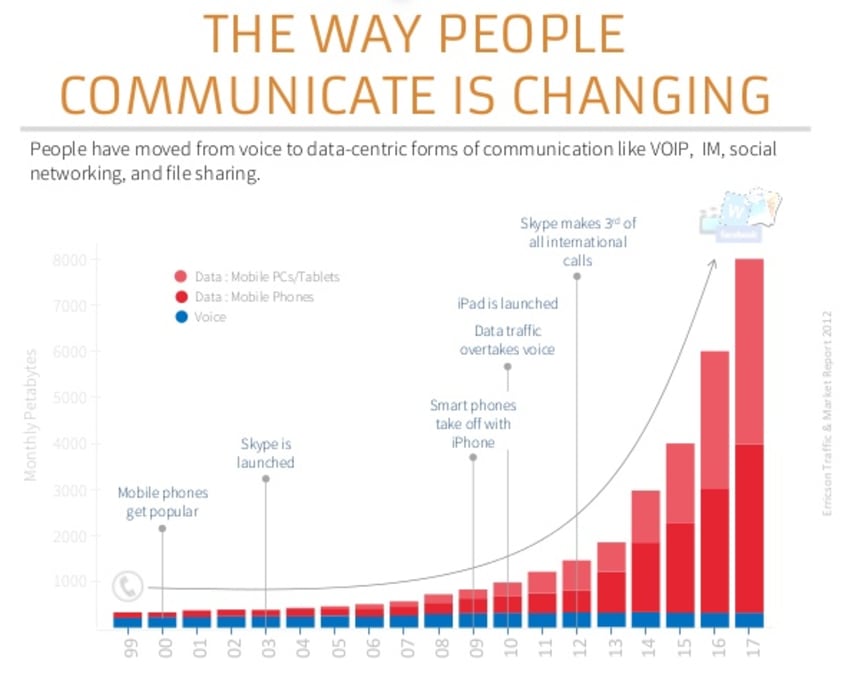 Graphs from Service Providers and the Cloud OTT Surge Infographic
According to a new report from industry analyst Analysys, creating bundle options for customers is an effective way to encourage users to adopt new data services. Data services are a key source of profit for the telecom industry, as the numbers using voice based communication services decline. Including data services in catered bundles increases the chance of users spending on data.
With this in mind, Dubber's new call and communication capture service is a perfect example of a data service for telcos. Playback is a service aimed at the individual that allows users to save, replay, search, tag and share their kept calls. Users can interact with their calls like never before. Ultimately, Playback can improve the daily personal and professional life of anyone who makes phone calls frequently. Playback is provided through service operators, and is available as an app on iOS, Web and Android. Deploying Playback as the data service to be part of a bundle will attract customers with its unique product offering, and encourage them to spend more on data services than they would with traditional pricing plans.