Embracing Remote Working: How UC Can Help Businesses
Remote working is slowly challenging the norm of 9-5. Flexibility in working practice is replacing allocated desks and designated start and finish times, while performance is measured by results and is moving away from the culture of presenteeism. According to a report by Gallup, 43% of employed Americans said they have worked remotely at some point over the last year, with 20% working from home full-time. The report suggests that advances in technology mean that workers no longer need to be confined to set office hours and locations in order to do their job effectively. With this new approach to work now expected by millennials (see chart below), businesses need to be prepared to adapt to a flexible workforce.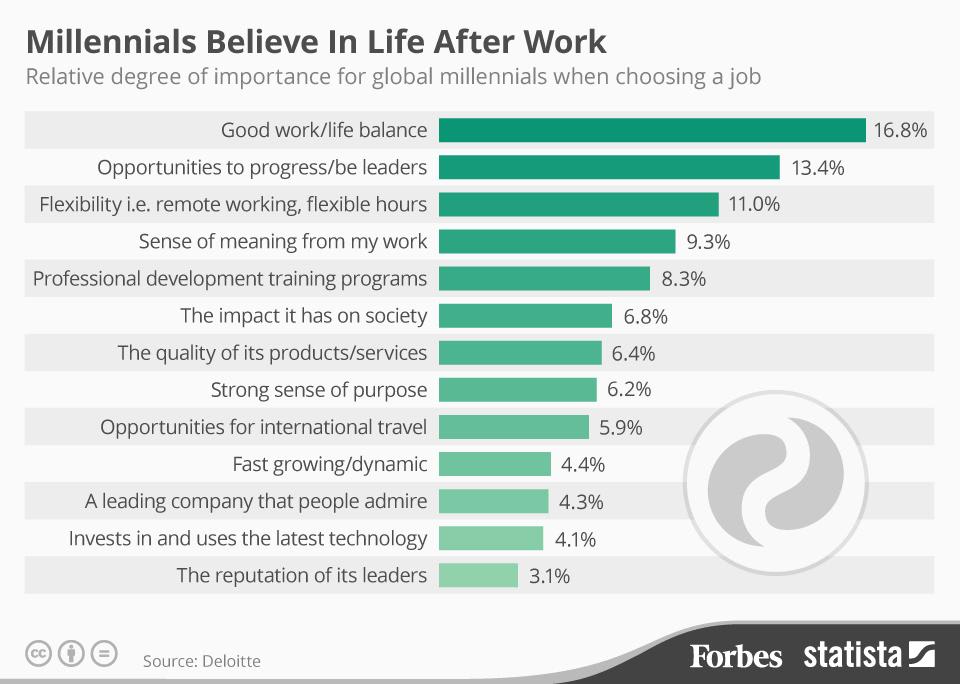 Source: Forbes
The benefits of employing remote workers…
As employers begin to embrace different ways of working, they are finding they can reduce their property costs with fewer workers on the premises. Their employees also benefit from advantages that go beyond the simple convenience of flexibility in their work. Employees who work remotely are less stressed and much happier as they can decide how they prefer to work and have greater control of their work/life balance. They can choose the working environment that best suits them, whether that be a café with a plug socket or the comfort of their bed. Release from the daily commute increases employee wellbeing, gives them more time in their day, saves them money, and also reduces their carbon footprint. A survey by Microsoft found the top ten benefits reported by remote workers were as follows:

Source: Sage
…and the challenges
Allowing employees to work remotely presents a challenge to managers and executives, who want to maintain a balance between staff wellbeing and productivity. Compliance is also a key consideration, especially within industries such as finance. Recording communications is essential to comply with regulations so organisations need to employ a solution that can capture conversations made outside the office. Implementing a unified communications (UC) solution, which amalgamates all communications into one interface, alongside call recording will ensure all conversations are captured – even when users are mobile. Remote contact centre workers that take customer payment card details over the phone need to ensure they are compliant with PCI DSS. This set of regulations states that no payment card details can be stored, so a call recording solution must feature measures to prevent this.
With remote working comes the risk of employees feeling disconnected from their work and the rest of their team. Key to remedying this potential sense of distance is encouraging continuous and proactive communication and enabling effective sharing of information between team members. This shouldn't be confined to work-related subjects. Without the opportunity to run into a colleague in the corridor, or to chat while making tea, remote workers can miss out on the day-to-day conversations that make a team feel connected. However, with advances in social media and other communication technology, workers can still have these catch-ups over instant messages and see each other's faces in video conferences.
Increased engagement between colleagues is an encouraging finding from Gallup's report (see chart below), which found that employees who worked remotely three or four days a week were actually the most likely to report that they have a best friend at work.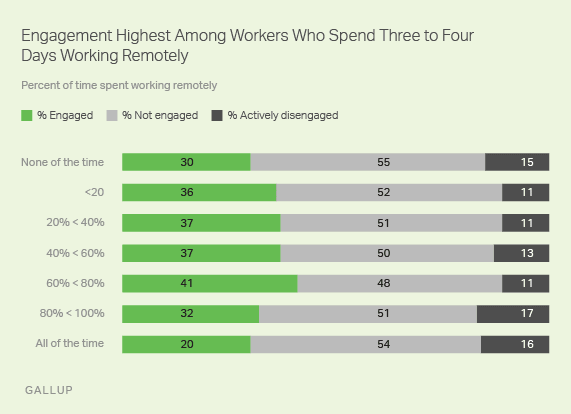 Source: Gallup
How Dubber can help
UC solutions are facilitating a new more flexible way of working, and increasing productivity and collaboration among the businesses that use them. Dubber is designed to be integrated with UC platforms and provides an array of solutions for call recording and communication capture, for use anywhere and on any device. By capturing communications straight from the network, when a UC solution is implemented with mobility, all user communications can be recorded even while they are mobile.
Dubber's deployment through Amazon Web Services not only ensures a flexible solution that can be scaled alongside UC solutions to suit businesses of all sizes, but that the calls are also encrypted for added security. Dubber has also partnered with Mondago to provide an automated pause and resume function that can be integrated with their call recording solution to ensure payment card information is not included in recorded calls.
The implementation of UC can bring a culture of productivity and collaboration. UC solutions facilitate modern ways of working and a more flexible way of life. Dubber's partnerships with UC providers such as BroadSoft allow organisations to quickly and easily deploy call recording alongside a UC solution and ensure all of their employees stay compliant, anytime, anywhere.