Everyday IoT Devices You Didn't Realise You're Using
With John Lewis, a large UK based retailer, recently launching a Smart Home department and Amazon, Google and Apple all developing their own Internet of Things (IoT) platforms and devices, the IoT is definitely on the rise – and looks set to become the new standard of living by 2020.
John Lewis decided to launch their Smart Home department following a yearly increase of 1,600% in searches for smart home products by their customers. The question now appears to be not if smart homes will become mainstream but how, and who will be the first to launch a successful platform. It is even predicted that smart homes will become as commonly adopted as smartphones. As the era of smart technology approaches, life in the near-future is set to become radically different to the lives we are used to leading now.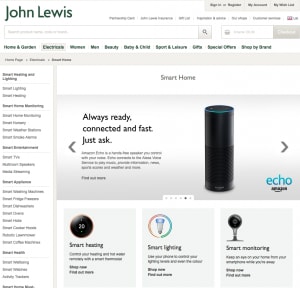 If you've ever wished you could check whether your fridge is out of milk on the journey home, instruct your coffee machine to make your morning coffee without getting out of bed, preheat the oven before you get home or automatically coordinate the lighting in your home with the time of day and activity levels, then those dreams may not be as far off as you think. The IoT is already making its way into everyday life, and soon these seemingly impossible tasks will become common practice.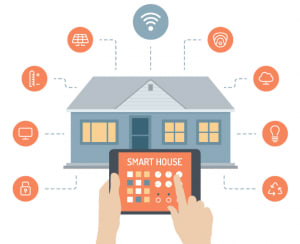 Image from Net Things
But what you may not know is that the IoT is already integrated to a certain extent in our everyday lives. There is a large collection of smart IoT devices that are available to buy or that even are already integrated into our everyday lives. With this in mind, we have compiled a list of our top 5 IoT devices that you probably didn't realise you are already using:
Sat navs: Now this depends on the model, but more recent ones have been integrated into the IoT, and can now download traffic data and automatically update their planned routes to avoid heavy traffic.
Wearable devices: Wearable health monitors, for example, Fitbits, are a growing craze. The devices record your activity levels, exercise, food, weight and sleep, and gather your overall health data to help improve a user's health. They are considered an IoT device because they rely on connectivity and download the collected data to smartphones or computers.
Smart thermostats: Internet-enabled heating systems are perhaps the most common smart home device. They connect to smartphones and enable users to control their home's heating from their phone. Nest is the most famous example and is available as a package with smart smoke and carbon monoxide alarms.
Amazon Dash buttons: Amazon is releasing increasing numbers of IoT devices, such as Amazon Echo – which marks the first IoT personal assistant device, and Amazon Dash buttons – which provide an IoT consumer goods ordering service. They are available for all common household products, and enable users to order a top-up as soon as they run out, at the mere press of a button!
Oyster cards: Launched in 2003, Oyster cards were actually one of the first commercial devices to use the IoT. The cards collect usage data of where, when and how often the user travels, which is then analysed and used to optimise the underground for users. This is probably the most used IoT device in UK.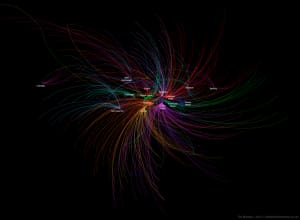 Map of daily London commuter journies – by Dr Ed Manley of UCL
Just for fun, we've also made a list of our top 5 crazy IoT devices that you'll find it hard to believe exist:
Top 5 Examples of Crazy IoT Devices that you won't Believe Exist:
Smart bedding: Heat-adjustable mattresses that can be programmed to reach different temperatures on different sides of the bed, settling the heating/window row once and for all. They can also be set to a timer and to track sleep phases, heart rates and breathing rates.
Smart garbage bin: Quite simply, they monitor your rubbish and automatically compile grocery lists.
Smart nappies: Who would've thought that nappies can be smart? Connectable nappies that send SMS reports when they detect moisture are now available.
Smart shoes: Google and WeSC have developed a shoe that connects to social media and provides exercise motivation by literally talking to the wearer if they have been still for too long.
And the winner of the most crazily unbelievable IoT device is…
Smart toilet seats: Yep, they're an actual thing. Developed in Japan, smart toilet seats offer an automatic raising and lowering function, heating and automatic flushing, which can all be controlled through a dedicated smartphone app. Users can also keep a diary of toilet use and (for some reason) play music through built-in speakers.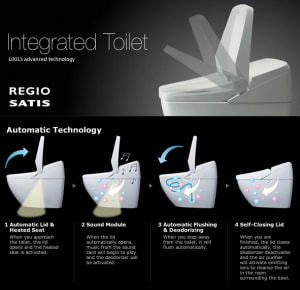 The IoT is growing fast, and is predicted to have 20.8 billion connected devices by 2020. The rate at which the IoT is growing certainly provides an explanation to the wide range of smart technology that are already available or under development, and the at-times crazy sounding devices. The benefits of the IoT are almost limitless, and smart homes in particular have the potential to significantly reduce the costs of owning a house. There are downsides too though, such as privacy concerns, this man who spent 11 hours attempting to make a cup of tea with his WiFi kettle, and we can't help but wonder how much demand there really is for smart toilet seats… The question is, will the substantial savings on time, energy and money be worth the privacy concern of sharing very detailed data of ourselves and our everyday life with IoT and telco companies? In other words – will the ends justify the means?