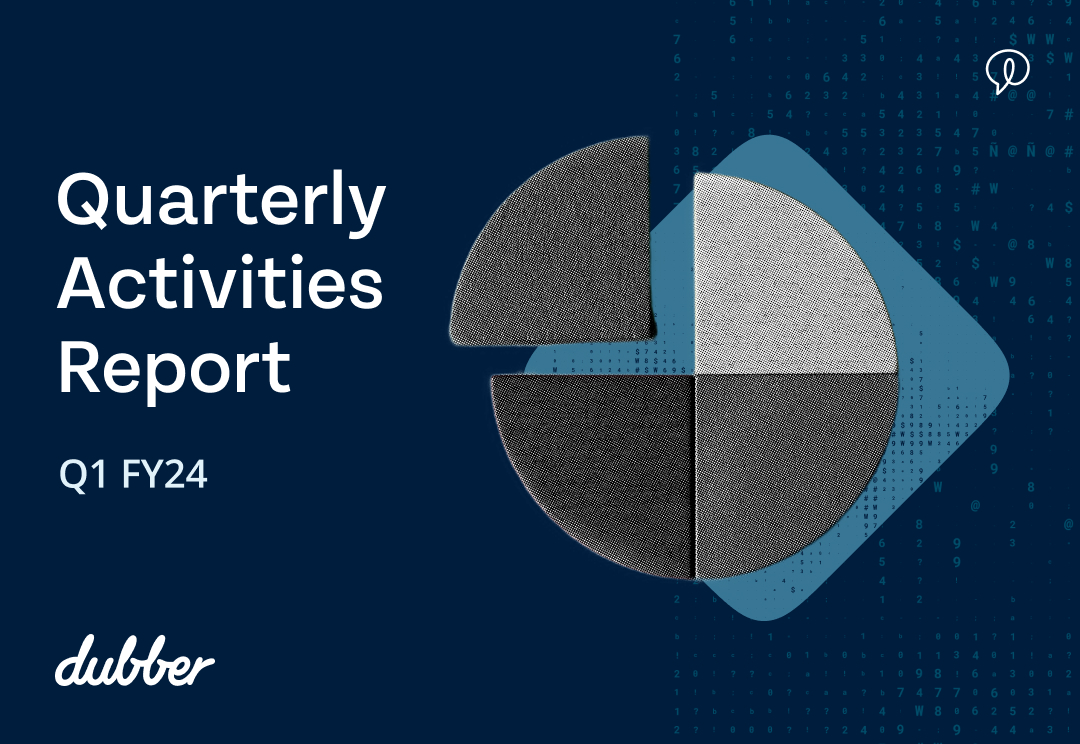 September 2023 Quarterly Activities Report
Melbourne, Australia: 26 October 2023 – Dubber Corporation Limited (ASX:DUB) ('Dubber'
or 'the Company'), the unified call recording and conversation intelligence platform designed
for global Communication Service and Solution Providers, today released its Q1 FY24
Appendix 4C and is pleased to provide this Quarterly Activities Report.
Q1 FY24 Highlights
● Revenue of $9.8m in Q1 FY24 up 10% on Q4 FY23 and 46% on Q1 FY23.
● Run-rate of $5m quarterly cash savings from FY23 restructuring programme
achieved in the quarter with operating cash costs including finance lease
repayments1 of $17.2m in the quarter, down 8% from $18.6m in Q4 FY23.
● Net operating cash outflows including finance lease repayments1 of $8.2m in Q1
FY24, down 3% from Q4 FY23 and down 20% on pcp.
● Operating cash receipts for the quarter were $9.0m, down 12% on Q4 FY23, and
down 5% on pcp reflecting expected seasonality.
● Capital raise undertaken raised $9.1m (net of issue costs) in the quarter.
● Cash on hand at 30 September 2023 was $33.7m.
● Deployment of Dubber Moments (Artificial Intelligence) solutions to customers
underway in the quarter.
● Dubber Moments recognised as 'Best AI Product in Telecom' at prestigious CogX
awards.
● Cisco Foundation programme moves to advanced revenue tier due to increased
uptake.
● Continued market penetration with new network agreements signed across the
Americas, Europe and APAC in the quarter, with 210+ Communication Service
Providers agreements in place at 30 September 2023.
● The Company reiterates its previously advised expectations for FY24 of revenue of
$45m and costs of $65m (excluding share based payments, goodwill impairment and
FX gains/losses).