Survey Results: How Innovative Communications Solutions Can Help Busy Workers
The world is changing. The way we communicate has been transformed and the world of work is adapting to new technology. We wanted to learn more about how people's working lives have changed, and their frustrations with technology that hasn't quite caught up, so we launched a targeted research campaign to learn more.
Our research surveyed over 2000 service sector employees to better understand the ways in which the world of work is changing and how communications service providers could provide products and tools that could help them reclaim their time.
An increasingly mobile workforce
Workers are no longer tied to their desks and jobs are becoming much less office-based. Our survey found that a third of the workers spend more than four hours away from their desk during their working day. With 18% away for eight hours or more, a significant number of service sector workers are completely mobile.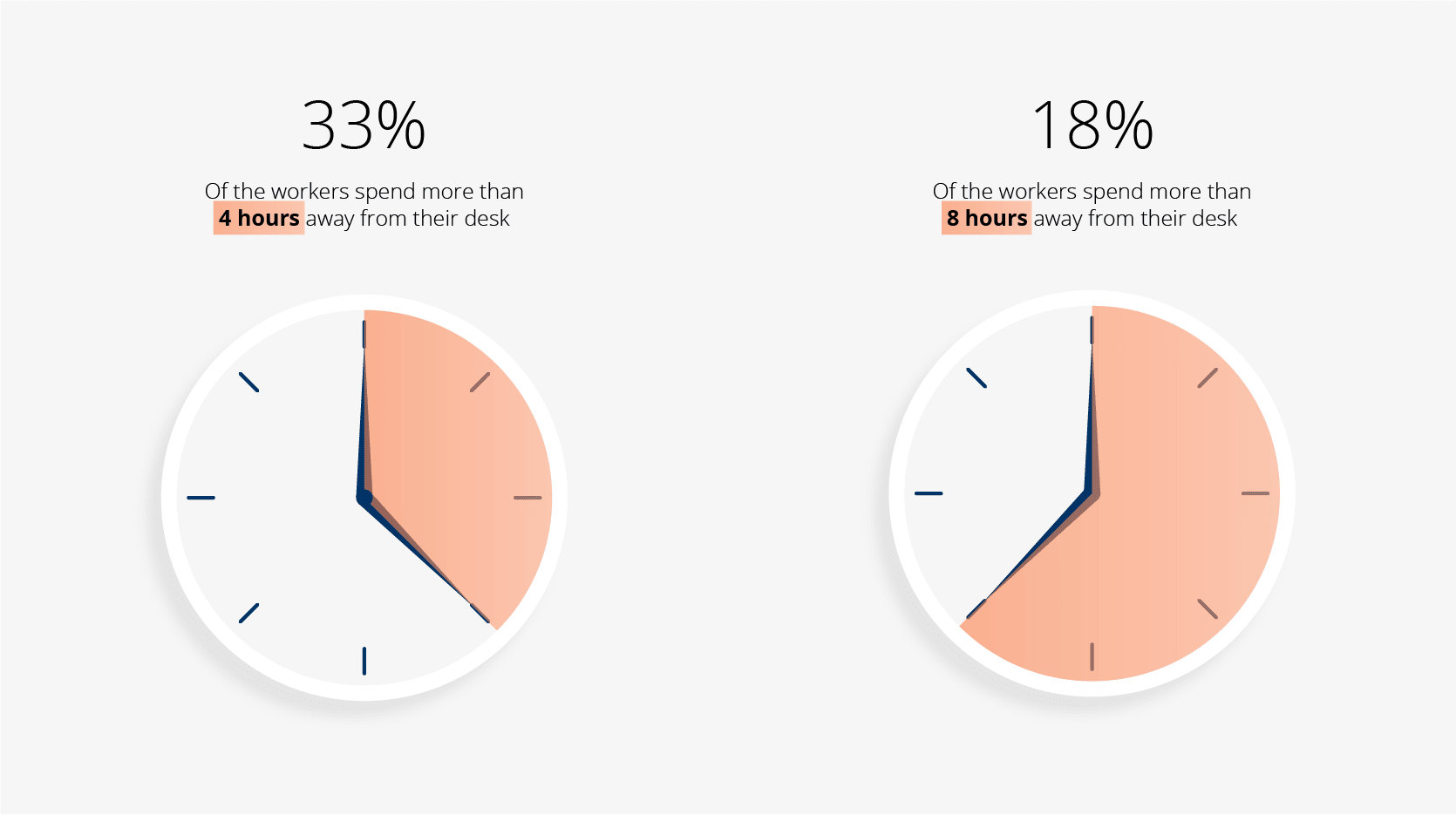 We wanted to find out just how productive employees are during this time away from their desk. Do they find they are catching up on missed work when they are back at the office? Are they continuing their jobs on the move? And, more importantly, do they have the tools they need to do their work effectively?
Cohesive communications
Dubber are always looking for ways to help people to manage their communications and make the most of every phone call. We were interested to find that over a quarter of all workers we surveyed make more than five business calls a week while mobile, and a tenth do the majority of their business calls on the move. With all these conversations taking place away from a desk, a keyboard, and a trusty notepad, it can be difficult to keep track of everything that takes place during a conversation.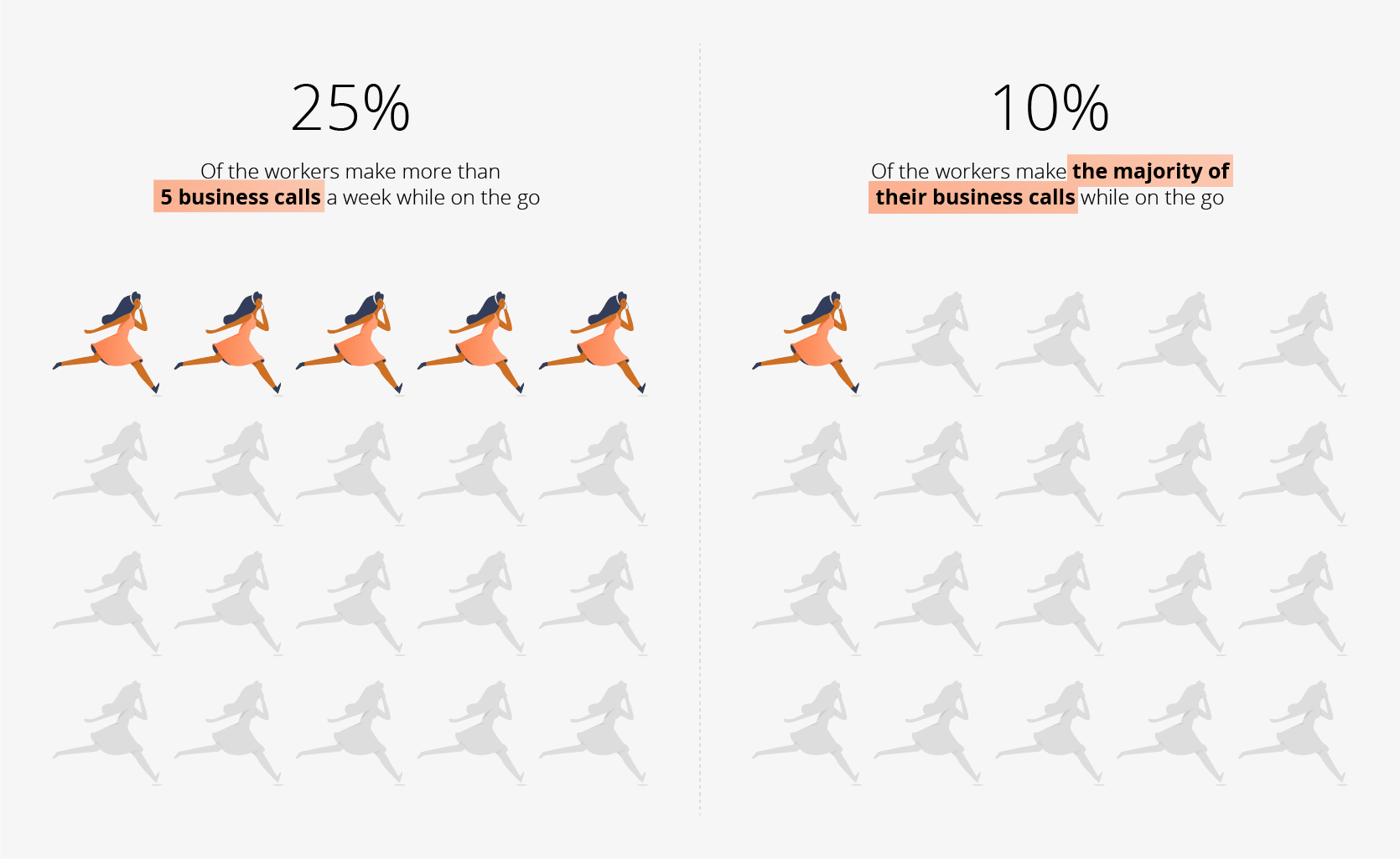 James Slaney, Dubber co-founder, has commented on the research; noting that, "The ability to work anywhere is obviously advantageous and a necessary component of modern work life, but it remains challenging when information is poorly recorded and crucial details missed when workers have phone conversations. Phone calls are often reserved for the important stuff; for the decision that needs to be made, for the question that we want answering urgently. We pick up the phone when we just need to get things done.
When phone calls can be recorded and the information gathered on them digested in the same way we process emails, we will see a resurgence in the number of calls made in the workplace. Once only provided as an always-on service deployed for regulatory compliance or contact centres, now businesses can choose from a range of call recording options and capture their calls at the touch of a button.
Advances in cloud computing and digital transformation mean that phone calls will better retain their value to businesses and advances in speech intelligence technology will allow businesses to unlock their priceless data. For the multi-tasking, mobile working Brit, the ability to make better use of the information gathered through phone calls gives peace of mind so that miscommunication and misunderstandings will be a thing of the past."
How service providers can help workers
Providing call recording and speech intelligence as a service allows service providers to supply their customers with solutions capable of meeting the needs of an increasingly mobile workforce, at a cost that is affordable to businesses of all sizes. Dubber's monthly subscription model allows smaller organisations to access the benefits of call recording and pass these efficiencies on to each of their employees.