Survey: What SMBs Are Missing From Their Communications
With an evolving business culture that increasingly requires flexibility from workers, solutions have developed that enable businesses to stay on target even when employees are working remotely, from their own devices, and out of office hours. Unified communications (UC) solutions do just that: synchronising conversations across devices and allowing workers the flexibility they need to keep up. SMBs are now looking for UC solutions which were only available to large corporations a few years ago. We've surveyed 120 SMBs in the US and found some interesting results.
Investing in communication
Communication is an important part of any business, but with tighter travel budgets affecting SMBs more keenly (a recent study by Forbes found that 59% of SMBs surveyed were travelling for business less frequently than they had been at the beginning of 2008, with 37% saying that they were travelling much less frequently) developing adequate alternatives to face-to-face contact is crucial. Improving communications allow relationships to be maintained from a distance, removing the need to be constantly on the road but in a slow and precarious economy, contact with clients is vital to nurture relationships and retain business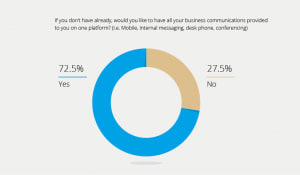 The demand for a unified communications solution is increasing due to the productivity and cost reduction benefits associated. Our survey of 120 SMBs across the US showed that while only 11% said they had a UC solution in place, 73% of respondents said that they wanted a service that consolidated all of their communications into one platform, showing a huge opportunity for UC growth. Simplifying the ways employees talk to each other and external contacts brings with it increased efficiency and a feeling of interconnectivity that is vital in a small business.
With 84% of respondents stating that they use the telephone as a business tool either some or all of the day, it is clear that this is an important channel for their company communications. However, significant percentages of respondents also noted their use of instant messaging and conference calls: showing that while traditional voice calls remain important to businesses, communication is branching out to other channels. Especially when sharing data or imparting information that is better presented visually, technology-enabled meetings such as web-conferences are a growing channel for businesses to engage with their customers through. More than half of SMBs surveyed by Forbes said they had increased their use of web-conferencing, videoconferencing, and teleconferencing since 2008 – citing time and money saving benefits as the main reasons for their choice of communication channel and also flexibility of location and timing (see graph below).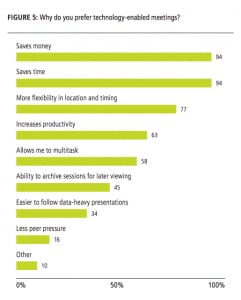 Source: Forbes
Mobile workers
SMBs are likely to employ mobile workers who need more flexibility than a traditional desk phone can offer. They frequently work across multiple devices and out of the office and require a communications solution to match if they want their conversations to remain cohesive and organised. When asked what phone system they used for work, personal mobile was the most common choice for respondents of our survey – showing that SMBs require a UC solution with mobility to ensure their communications are synchronised.
Employees experience this level of constant connectivity in their personal lives and they have come to expect this from their work communications as well. The risk of continuing without a UC solution in place is that employees, frustrated by workplace communication channels that lack flexibility and performance, use their personal accounts for external communications. This can cause difficulties concerning security and compliance. We have written before about the rise of BYOD and the challenges it brings but in certain industries this approach just isn't feasible. In its place, a UC platform that is both available and secure is essential. This type of solution, which included features such as call recording and mobility, was once only available to large enterprises but is now available for businesses of all sizes. Telcos now have a unique opportunity to collaborate with platforms such as Dubber to offer these services to their SMB customers who are ready to take advantage of this additional functionality.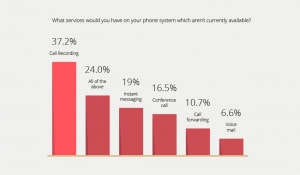 The most popular choice of service that wasn't currently available to the SMBs surveyed was call recording, with 37% selecting it as a feature they want from their service provider, showing a key area of growth that telcos can capitalise on. Call recording is becoming ever more important as regulation and compliance become key for increasing numbers of industries.
The obvious solution for the communication needs of SMBs is a UCaaS model, which can provide features previously only available to larger enterprises, but with much lower costs. Using cloud infrastructure is beneficial to many aspects of businesses, from CRM solutions to data storage, due to its scalability and security, and its future is in communications. Native cloud solutions offer much better security than systems hosted locally and can grow or shrink alongside a business. By consolidating all communication; from telephony to email, via instant messaging, into one integrated service, SMBs can connect their employees with a cohesive working practice.
If you're one of the SMBs that would like call recording on top of your UC platform, then get in touch