The Deciding Factors Between Hosted Telephony vs PBX
Hosted telephony has gained popularity and coverage recently, with its cloud base appealing to forward thinking enterprises and press alike. The chart below shows the growth of both managed and hosted systems, with on-premise PBX experiencing negative growth. However, research undertaken by communications analyst MZA has shown that most small businesses still use PBX rather than making the move to hosted telephony. There are four main factors to consider when choosing between the two solutions, which are outlined below.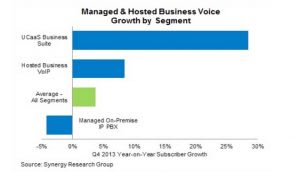 Source: Synergy Research Group
Cost
Hosted telephony largely appeals to both small and large businesses due to the lack of CapEx required to implement the system. There is no hardware necessary, which reduces the storage space required as well as power costs associated with running servers. With on-premise PBX options there are also installation costs on top of hardware expenditure. Larger organisations will have greater CapEx, as costs only increase with the size of the hardware required.
However, monthly subscriptions for hosted telephony can work out more expensive over time, depending on the services and the size of the enterprise. Considerations need to be made regarding the features required by the business, as there may be extra costs that are not included in basic hosting packages. The chart below shows the top 7 reasons that SMBs look to change their system, with the results separated by their current solution, giving an idea of the considerations that should be made when deciding on a system.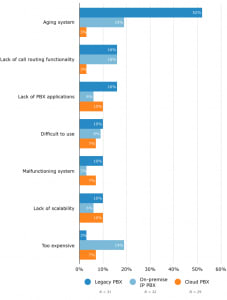 Software Advice's survey of SMBs and their phone systems
Time
As well as installation costs, the time required to implement an on-premise PBX solution is an inconvenience. Cloud solutions offer the advantage of rapid deployment, meaning installation costs are virtually eliminated by the DIY approach to implementation. When choosing a telephony option, installing a new infrastructure is a significant commitment. PBX solutions will need to be updated over time, and replacing hardware or enhancing features can take weeks to integrate. These changes can often lead to communications downtime that will need to be scheduled to reduce inconvenience as much as possible.
Hosted solutions can be implemented alongside existing communication systems. The most hardware that will be required is the phones themselves. Software updates are maintained by your cloud provider, meaning you stay constantly up to date.
Flexibility and scalability
The case for hosted telephony is certainly bolstered by the flexibility and scalability that it offers. Just as hosted telephony can grow alongside a business, it can also be scaled back. This can reduce monthly costs immediately, in contrast to large CapEx that will have already been paid in the case of PBX.
Security
With hosted telephony you have the added reassurance of reliable redundancy. Depending on the provider, you may not have immediate access to all of your data but you will have the guarantee that it will be stored securely with recovery solutions. The advantage of on-premise PBX systems is the immediate access they offer, but recovery measures are often so expensive that only larger enterprises are able to justify the cost of this level of security.
To decide which option is right for your business you need to consider not only pricing, but what your company needs from a telephony system. Looking to the future and anticipating how these needs might change as your company grows is just as important as the immediate considerations of cost and convenience.